NETANEL GOLDBERG - RIVER OF LIGHT LIVE CONCERT
Netanel is a countertenor vocal artist who leads sessions of prayer and healing circles in Israel, Europe, and the United States.
In addition to Hebrew and English, Netanel performs in new languages that he channels live, an improvisational reflection of life through music. In the past 2 years Netanel joined the international guitarist "Estas tone" for tours in Europe and Russia.
He tours with the pianist "Mitsch Kohn" in Europe & Israel.
In addition to concerts, Netanel leads workshops & retreats, as well as ceremonies of life (weddings, birth & death).
INTICHE / PABLO JAVIER ACOSTA SANTOS - ECSTATIC DANCE
Intiche is a messenger, visionary as well as a bridge for people to connect: through the magic of music, frequencies and vibrations – with their higher self.
Born in Southamerica, since 18 years based in Berlin, Germany. Since the early age of 4 years  playing music, starting around 12 years old to mix acoustic instruments with electronic music. After travelling 5 times through Southamerica, he decided to go to Berlin for dive deep into the electronic music where he develop his own style of organic electronic music and in the last years he working with healing frequencys.
Playing thousends of gigs around the world at festivals, ecstatic dances, ceremonies, sound journeys, healing gatherings, clubs, etc…
The music of Intiche is a deep fusion of natural & organic sounds, traditional instruments and traditional music from ancient cultures, combined in the most captivating of ways with electronic downtempo, minimal, trance, tribal, and nu folk influences. New visions for old connections.
He will take us into the heart of a jungle-mountain-sea landscape, flying through the universe and back as we stomp on the earthy grounds of Pachamama together and shake the spirits to the bones.
Download link for buy intiche music: www.intiche.bandcamp.com
More information: www.intiche.com & https://www.facebook.com/INTICHE-311520156525/
DJ T / THOMAS KOCH - ECSTATIC DANCE
In today's electronic music world, there are not many artists who can lay claim to a legacy like that of Thomas Koch aka DJ T. From spending his youth collecting Disco, Funk, Soul, early Hip-Hop and Electro, to this day, still collecting, selecting and playing, still full of energy and inspiration. DJ T. has notched up a seriously impressive list of achievements during his illustrious career, which spans over three decades.
This, T. will celebrate his 30 years in the business. In the last few years, he has produced three albums, curated numerous compilations, produced a long list of EPs and remixes and toured the globe several times over. He has also been a key member of the collective who launched Get Physical Records, the brains behind Groove Magazine - Europe's premier electronic music publication - and helped launching and running Frankfurt's only House club in the first half of the naughties, the Monza Club.
KALYAN - LIQUID CELLO LIVE CONCERT
Kalyan is a cellist and multi-instrumentist with several albums on his account.
He has been teaching musicality and the art of listening since 25 years.
« Music starts with listening! And - your sensitivity to sound has no limits."
Kalyan's play opens into a deeper spectrum of emotion and sensitivity.
Cello and dilruba (Indian string instrument).
SAN MIGUEL - ECSTATIC DANCE
San Miguel is a master of clashing with the styles and loves to produce his unique sounds with a range of spheric and deep synths, often joined by the richness of acoustic instruments. He invites the listeners to an organic sound scape for vibrational healing, so one can discover previously dormant layers of the heart, and a unity that has no borders: bringing all in and giving all out. His music whirls us into reaching different realms and connecting us back to the universal essence of ALL.
As an creative and outgoing guy he wanted to share his various passions and founded the Berlin record label "Phonothek Records" as well as "Einfach Liebe" - a community of different artists and a pool for a variety of events. All in the mission of LOVE. ♥
https://soundcloud.com/san-miguel-berlin
https://www.facebook.com/san.miguel.berlin
http://www.einfachliebe.berlin
MAL WEBB & KYLIE MORRIGAN - VOCAL ADVENTURE

Vocal adventurer, multi-instrumentalist and looping beatboxing songwriter Mal sings his brain provoking songs using all sorts of vocal techniques, guitar, mbira, slide trumpet, trombone, chromatic harmonica and a loop recording pedal called Derek. And Kylie (who's played with Orchestra Victoria and the likes of Stevie Wonder and Barry White!) provides violin and voice in a perfect balance to Mal's nutsness. Their arrangements are intricate and playful. Imagine Einstein, Dr Seuss and Paganini making pancakes.
PETROS HAFFENRICHTER - KIRTAN

A universal song infinitely plays through all existence. It's the song of divinity, of creation as a celestial celebration. This song can be heard within our hearts if we carefully listen. The notes it consists of are the divine sounds and sound-patterns. By invoking this divine mood we sanctify all our thoughts, words and deeds. Music is the Key to a deeper understanding of Life.
Petros Haffenrichter, multi-instrumetalist, singer, lifelong student and teacher of sound, movement, color and thought has produced and performed a variety of musical approaches. From world-music, electronca to modal music, through compositions for meditation and contemplation to indian devotional chanting. He has been performing with different projects all over the globe for the past 20 years.
He will perform specific interactive arrangements / electronica / and invites the audience to participate to experience sound-patterns for a deeper experience of the human range of moods.
ANJUNA SARAN - SOUL LIGHT YOGA
Yoga opens your heart and connects you to the light of your soul. Soul light Yoga is energetically clearing and heals through deep Chakra work and conscious breathing. The classes are very intuitive and a journey into the light. Energetic asanas, flow sequences, meditation, mantras and healing mudras create a powerful space that will bring you healing, transformation and inner peace.
I am here to support and guide you in this process as an energetic and spiritual healer, mindfulness-coach, holistic yoga teacher, and artist. My healing work is a personal healing art that evolved over many years. It is a combination of healing meditations, healing hands, rituals, prayers, chanting, dance, and yoga. I work with white shamanic energies, Christus energies, the divine mother, archangels, crystal energy and above all with your own soul power. Through energetic soul guidance I will help you to connect with your source, your intuition, creativity, and higher consciousness. My holistic healing sessions focus on light healing, body healing, transformation, and light initiations (light codes). Every session will open your heart, activate your soul power, and clear your mind. Old energies will be transformed and negative patterns released.
The lightful powers of heaven and earth guide my work. I function as a medium between the worlds, a channel for cosmic healing energy and the elemental soul of mother earth. These are energies of healing love and wisdom that transform, open up new spaces, and heal. They are connected to your inner truth and create space for your purpose in life. They will heal your karma and open you for higher wisdom. They will give you the power to reorder your life, reposition yourself and to realise your own worth and free yourself. This is where your soul is at home.<
Soul Light Being is the way of the awakened humans who are highly intuitive and connected to the divine in order to serve mother earth and all humans.
ADAM RICE - PURE PRANA VINYASA FLOW
Reconnect with your inner power and strength through Adam Rice's "PurePrana" Vinyasa Flow class. Set to a powerful soundtrack of tribal and Indian electronic beats, Adam's classes are known for being challenging, yet fun. Find the warrior inside of you with the Warrior Series, overcome fear through arm balances, and come back to your center in standing poses. With lots of hands-on adjustments, Adam will help you achieve your full potential in a loving and safe way.
All those wanting to challenge themselves physically, mentally and spiritually. This class is geared towards experienced yogis, or beginners with a good level of fitness and body awareness. This practice will help those who need a bit of a "kick in the ass" to get the energy moving in their lives, or those who want to go deeper into flow.
Originally from Florida, USA, Adam Rice has been teaching Vinyasa flow yoga since 1999. A former Junior Olympic athlete, entrepreneur and adventurer, Adam discovered the power that yoga has to restore his balance and reconnect him with his inner strength. In addition to his teaching, Adam has dedicated his life to helping others. He is the founder of Yoga Kids Uganda, a program to integrate yoga into trauma therapy programs for the child soldiers of the Ugandan civil war, and Travel with a Purpose, which takes yoga students to places like India to volunteer in orphanages. He is a Legacy Ambassador for Lululemon Athletica, a Senior Teacher at Spirit Yoga Berlin, and offers workshops and retreats around the world.
Yoga mat (if they have), otherwise they will be provided. Comfortable clothes, a small towel and water bottle.
https://www.facebook.com/adamriceyoga/
ZARAH KUMARA - KUNDALINI TRANSMISSION -  receiving the  GOLDEN AURA
Zarah is guiding you into a special ritual of light... This morning practice is preparing you to live in your full light potential. Enjoy the cleansing effects and the following light transmission.
Kundalini Yoga, Ancient Science, Transmission of Light awaits you, Love and healing into your every cells. Come and immerse yourself in the source of your divine light, healing the wounds of time and opening your divine vessel and light body for the primordial light of the ethers.
Zarah is a Light Priestess, Kundalini Yoga Teacher, Mantra Artist and a medical intuitive healer & Psychotherapist with a doctoral license.
Zarah works with the angelic realm, meditative healing arts and with light crystals to harmonize and unblock energies in the physical and subtle bodies. She is licensed with a Private Practice in the greater Munich Area, Germany and travels around the world to coach and teach. She is Greek/German, raised in Northern Africa and around the world.
In her classes and international Retreats she works her healing magic by helping humans and starseeds become their highest selves through her heart-centered and compassionate teachings and life coaching. She specializes in eclectic life coaching, as well as working with the divine feminine, creating mantra music & sound scapes, and holding classes & healing rituals around the world.
PETROS HAFFENRICHTER - THE SOUND BODY
Petros, musician, yogi, philosopher, life-artist is senior jivamukti yoga teacher, opened his first yoga-school in 2002, directed several yoga schools in Germany and runs one of the most renown
Yoga Retreats in Europe / Kretashala, Triopetra in Crete / Greece. He has been a regular guest teacher and performed Kirtan in yogaschools of different traditions around the world and at intl.festivals for many years, teaching and lecturing.
Asana, Pranayama, NadaYoga and Philosophy. Through is present, funny and deep teaching he has been influencial to many practicioners and has taught and educated hundreds of Yogateachers globally.
Petro's honest, funny and challenging teaching inspires to be fully aware in the present moment. So experience comes through intuition and not from a place of personal preference or dislikes. Returning to that place, where, independently from outer circumstance there always is peace: the pure light of the heart. There are many obstacles, yoga gives us the possibility to free ourselves from. So our true nature remains no longer hidden. We really are free, wild, full of love and joy – without conditioning, without fear. He has great gatitude for all teachers, known and unknown, he had the honour to study with and is thankful to all circumstance that give us the chance to experience this feeling of unity, of non-separateness. To learn to accept the greatest of all teachers: our life.
A universal song infinitely plays through all existence. It's the song of divinity, of creation as a celestial celebration. This song can be heard within our hearts if we carefully listen. The notes it consists of are the divine sounds and sound-patterns. By invoking this divine mood we sanctify all our thoughts, words and deeds. Music is the Key to a deeper understanding of Life.
MELOUKA RANKIN - THETAHEALING®  WORKSHOP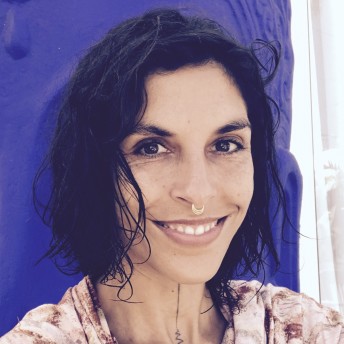 Das Herz des Workshops ist das Erlernen und Praktizieren der ThetaHealing® Grund-Techniken, um Lebensmuster die auf verschiedenen Ebenen deines Seins gespeichert sind zu verändern.
In vielen praktischen Übungen lernst du deine eigenen unbewussten Glaubenssätze und Programme in dir und anderen intuitiv wahrzunehmen und durch die Anwendung der ThetaHealing®-Methode zu verändern. Dieser Prozess kann sehr schnell unbewusste Programme aufdecken und dem Körper erlauben limitierende Glaubensmuster in positive zu verändern.
Melouka Rankin
​Meine Leidenschaft ist es Teil dieser großen Veränderung auf unserer Erde zu sein, wo wir erwachen und uns wieder an unsere Einheit erinnern und unser grösstes Potential zum Ausdruck bringen.
Im Jahr 2012 habe ich ThetaHealing erfahren dürfen, was mein ganzes Leben verändert hat.
Eine intensive Zeit der eigenen Heilung und Veränderung hat mich zu meiner inneren Wahrheit und Freiheit geführt...
...der Wahrheit meines Herzens...
https://www.melouka-thetajoy.com
SARAH-JANE, ANJUNA SARAN & ZARAH KUMARA - SHAKTI RISING WORKSHOP
Join us in the land of the Goddess to remember who you are at your essence. To remove the masks and drop deep into the void of your womb. Deeply listening to receive the transmission of your
wisdom. Purifying your energy body to create space for Shakti to rise. To feel the pulse of life force, the current of the feminine opening you, softening you, enlivening you and dancing you home to
grace. To live life fully embodied as the powerful, creative, radiant women you are.
This workshop is a sacred invitation to come to know yourself as the radiant, sensual, powerful woman that you are. A vessel for divine light and a bridge between heaven and earth. Not afraid of her shadow as she knows the purity and power of her light. The woman who owns her power as the creatrix of her reality, energetic alchemist and priestess of Gaia.
Under the guidance of the frequencies of the feminine, the Goddesses, elementals, Angelics and beyond we will journey through:
● Kundalini yoga to cleanse the chakra system, opening our voices with the resonance of mantra.
● Shakti yoga and somatic movement to shift suppressed emotion, awaken sensuality, returning to our primal wild nature.
● Archetypes of the feminine and how they express in our world.
● Clearing and activating the sacred womb portal, plugging into womb wisdom, the codes of our sacred cycle and blood mysteries.
● Women's alchemy to cleanse and clear the aura and arc line from past lovers and experiences
● Taoist and tantric techniques to awaken our sexual energy and ignite our inner fire of creation
● Sacred healing circles to activate life force and connect you to the wisdom of your soul
● Angelic Healing with Archangels to for clearing and igniting the light of the universe within us
● Elemental ceremonies
● Transmission of the pure Christ Light of love, innocence and beauty.
The workshop is for women only.
Await a fierce Shakti Awakening!
SHANTI REEMA - HUMAN DESIGN SYSTEM
Human Design System is a science of self-discovery and uniqueness. It is a logical system that combines the wisdom of Astrology, the I Ching, Kabbalah, the Chakra system and Quantum physics.
The greater gift of Human Design System is the decision-making. It can show you how to consistently make the right choices in your life; and is a way of allowing your body's intelligence to guide you.
( About HUMAN DESIGN PRESENTATION…. )
Are you aware of the impact that your aura may have about who is close to you and vice versa?
Who are you and who are the other?
Where it begins and ends your reality?
How can you make a decision properly respecting yourself?
These and other issues will be addressed during the experiential inter- active presentation of Human Design System. In particular we will look at the different genetic families that are in the world right now and the strategy of life linked to them.
To participate in this enlightening program is needed to know your birth time, and print/ download for free your own map of Auric design (RAVE CHART) by going to the website www.jovianarchive.com
IGOR EZENDAMM & ARIANNA ARTIOLI - FEELING SOUND
Our workshops and retreats are vocal laboratories created for anyone wishing to free their voice and feel empowered. The expression of our emotions by singing together is a joyous and exciting inner journey in good company, a real "Voice Quest" to discover ourselves through our sound.
Together we explore the vocal instrument for pleasure and healing, with loving attention for our body, breath, heart and mind.
We practice becoming conscious of our breath, our sound, our words and their effect on our world.
Listening, feeling, expressing and freeing our voice, we explore our sound without imposing a structure. We touch upon our emotional wounds, the inner child and ways to balance out the extremes in our lives. We honor each participant's state of being in a safe and sacred space, where anything is possible.
An important element of our workshops is the singing technique of Vocal harmonics, also called overtone or diphonic singing. This traditional singing style found in Tuva, Mongolia, as well as in Tibet, creates a very high whistle-like melody above the normal voice. It is possible to learn how to use our voice to break up these harmonics into specific sound frequencies.
SIMON DEBONNAIRE & ANJA MURY - CACAO CEREMONY
Anja & Simon will take you on a journey deep inside through intuitive movement,
5 Elements Dance, Singing Circle and Sound Journey supported with Medicine of the Heart Sacred Cacao.
Sacred Cacao Ceremony gives us time for ourselves in a hectic and busy world. It gives us space to switch off the outside chaos and travel into the silence, so that we become clearer about ourselves and our life paths.
A Sacred Cacao Ceremony is food for your soul.
♥ 5 ELEMENTS DANCE ♥
As the 5 natural Elements are found outside, they are also found within. Through intuitive movement & dancing, the 5 Element Dance is a direct connection to the natural & organic part of our beings.
It s a celebration, embodiment of the Elements of Earth, Water, Fire, Air & Ether and a very potent dance which connects to the Heart, expands the barriers of the Mind. Helping you to face, release and deepen your own process.
♥ SACRED CACAO ♥
Beside of the recreational and fun aspects. Cacao remains a medicine plant coming from our Mother Earth. It acts at the physical, emotional and spiritual level. Opening the Heart, grounding the Body and uplifting the Spirit.
It supports a light & gentle healing process and it might reach quite deep layers if you allow yourself to dive deeper.
All Sacred cacao lovers, wild dancers, singing birds, sound weavers and everybody who feels the call.
About Anja & Simon :
Anja Mury is a passionate world traveller, sacred space provider, light worker and devoted to her path of unravelling the truth. She loves to create sacred space for everyone to feel nurtured and secure while being on a transformational journey.
On one of her journeys, she became acquainted with the plant Medicine of Raw Cacao. The heart-opening wisdom of Cacao connected her back to nature.
Anja is a shamanic apprentice of Brazilian master shaman Alba Maria and follows the Mother Goddess lineage. She is an initiate of Ceremonial Cacao and has been trained in 5 Elements Dance and is also a certified Alchemical Dance Priestess.
She holds regular workshops and sacred cacao ceremonies in Berlin, London, at holistic European festivals and seasonally in Koh Phangan in Thailand.
Anja practices energy healing methods Light-Grids, Reiki & Theta-Healing and is also available for private sessions.
Simon Debonnaire s a massage therapist, short novelist and poetry writer. He also works with rhythm, sound, music and meditation. He believes that sounds have the ability and power to extend the boundaries and limits of the Mind. With a holistic, meditative and sacred approach, it opens the Heart to a compassionate, more sensitive and grounded aspects of ourselves. It allows us to journey at the inter-dimensional and cellular level giving us access to the universal memory code that we all carry within.
Sound were present from the very beginning of time and space so hold very ancient teachings. Beyond words and intellect, it s a way of communication, spreading and expanding the energy. Simon holds sacred cacao ceremonies in London, Kho Phangan (Thailand), Berlin, at European festivals and holistic gatherings. He also holds Authentic Voice & Therapeutic Singing Circle, sound journeys, meditation workshops. And co-create Conscious wellness Festivals & holistic workshops.
Bring an open smile & hearted soul
https://www.sunmoon-alchemy.com/
ADAM RICE - MEN CIRCLE